Medical massage therapy restores balance, relieves muscle tension and increases circulation under medical massage protocol. A medical massage therapist may use a variety of modalities or procedures during the treatment. Here at Aria Medi Spa you can enjoy the benefits of our soothing, certified natural and organic products. Our top of the line organic essential oils combine the natural healing properties of plants with the power of effective botanical ingredients, allowing us to deliver the desired results to our clients.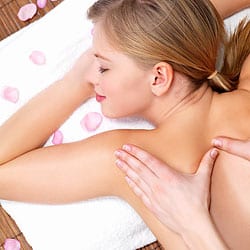 HOT STONE MASSAGE 60/90 MIN – $145/$195, MEMBER- $115/$155
Hot stone massage is a variation of the classic massage therapy. Heated smooth flat stones are placed on key points of the body.
Your massage is personalized to focus on the area of your body which is most affected by tension and stress. Special blends of oils are prepared to penetrate your skin and soothe tired and aching muscles.
Deep tissue massage combines deep pressure on points and areas where needed, followed by long smooth strokes to penetrate your skin and soothe tired and aching muscles.
A custom blend of lotion and oil is imported directly from Thailand and applied with point pressure to the foot and lower leg using massage techniques from China and Thailand. Smooth gliding strokes and pressure applied to specific problem areas soothe away lower leg and foot pain. This massage influences better function through out the entire body. Organs, circulation, and extremities will benefit naturally from a soothing foot massage considered to be a relaxing and energizing body tune-up through out Asia.
This massage is perfect for relaxation and stress relief along with those that are suffering from chronic pain in their feet.
Our Soothing Foot Massage can be enjoyed combined with another treatment or all by itself, when finished you will feel like you are walking on air
The power of aromatherapy is combined with the riches of the ocean in this deeply warming and detoxifying therapy which includes lavender, lemon, eucalyptus, rose geranium, etc.
What a perfect way to spend time with someone you love. Both of you will enjoy a full body massage side by side. (Priced for 2).
Specially designed for mothers-to-be, this massage promotes relaxation, increases circulation and provides comfort during your wondrous time of change.
During pregnancy, perinatal massage aids guests in their overall emotional and physical well being. Emotionally, relieving stresses on the mind of the mother can promote a more stable and successful pregnancy. This emotional support can help the mother cope with the changes in her body, especially if she is experiencing depression or anxiety issues related to hormonal imbalance.
Physically, regular massages can help prepare the mother's body for labor, improve circulation, promote better sleep, reduce swelling and relieve lower back pain. Decreasing the stress on weight-bearing joints and aiding in improving posture as the weight of the baby increases can lead to a more comfortable and enjoyable pregnancy. Perinatal massage can also improve skin pliability, which can lead to fewer or less distinct stretch marks during pregnancy and after birth.
A relaxing full body pregnancy massage to treat the common discomforts of pregnancy, reduce tension and anxiety. Along with Pure Fiji's nourishing oils this will also improve skin elasticity, hydrate and nourish the skin. Transport you and your bump to a tropical island paradise.
A traditional Fijian coconut bowl is used to slowly drizzle warmed exotic nut oils that are then massaged gently into the scalp and neck restoring balance and leaving hair shiny and healthy.
The lymphatic massage is a delicate, light form favoring the lymph flow. It is based on light, rhythmic and constant movements, only touching the skin, with an almost non-perceptible pressure.
line of Inversion Stretch Massage Chairs uses exclusive technology to pull and stretch the spine and alleviate chronic pain. Especially effective for people with sciatic nerve inflammation and lower back pain, these chairs also feature shiatsu, heat, zero-gravity, and reflexology techniques.
Pull and Stretch the Spine for Greater Flexibility and to Alleviate Chronic Pain
* VIP WELLNESS CLUB MEMBERS 30% OFF
ADD ON
Custom Designer Facial for $85
LED Face Mask 20 min $25
Body scrub  and  organic wrap – 60 min $80
Bochka Steam Treatment – 20 min  $20
Sauna Venik 30 – min $40
Salt room Reflexology massage – 30 min $45
Salt room-30 min for $20,
Sunless Bronzing for $35
Float Room  30min -40
Cryotherapy  $30